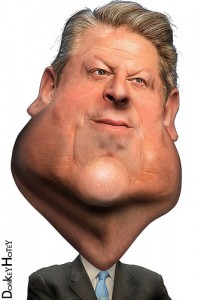 Former Vice President Al Gore has officially become a permanent resident in the land of kooks and nuts.  Gore, a former Southern Baptist who used to oppose the murder of innocent pre-born children until he (like other former Southern Baptists Bill Clinton and Richard Gephardt) realized he would not have a future in the pro-abortion Democrat Party, has played the race card in support of his pet cult cause, global warming (k/n/a "Climate Change").
Gore, in an interview broadcast on UStream on August 26, 2011, emphatically stated:
"We have to win the conversation on climate,"
How might one "win" the conversation on an increasingly debated theory?  You would think that scientific evidence would be enough to convince climate change skeptics that this phenomenon is real.  However, when science cannot conclusively prove the validity of your new-age religious belief, then why not try to "win" by resorting to one of the oldest (and most clichéd) plays in the leftist handbook — call your opponents racists.
Next to calling those who disagree with you "Nazis," the racist label is the most tried-and-true weapon in a liberal's arsenal.  By this point in his life, having apparently abandoned any semblance of Biblically orthodox faith, Gore is left with a "win at all costs" mentality.  It does not matter whether or not what he says is true (I think there is a Big 10 Commandment prohibiting bearing false witness), Gore is intent on the world converting to his environmental religion.  We should not be surprised at the fervor with which some, including the former Vice President, believe in Climate Change.  The Bible warns of those who will worship the creation instead of the Creator.
Gore, by labeling Climate Change opponents as akin to the Bull Connors in the segregated south, has not only cheapened the fight for Civil Rights in this country, but has shown the world just how deeply he has drunk at the well of the environmental gods.  Too bad for Mr. Gore that he no longer realizes that the well from which he drinks is poisoned.

Photo by DonkeyHotey