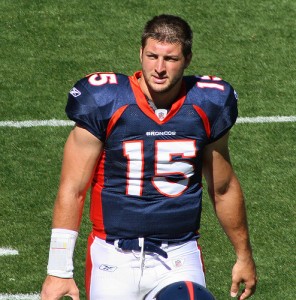 Ever since the story broke that Peyton Manning would visit with John Elway, John Fox and the Denver Broncos, speculation has run rampant regarding the future of Tim Tebow. Although Manning, arguably one of the best quarterbacks to ever play the game, continues on his multi-city "listening" tour and has yet to make a decision as to which NFL team will be "blessed" with his services, some in the Denver media have already pronounced Tebowmania dead, killed at the hands of Peyton Manning and John Elway. Tim Tebow's time maybe up in Denver, but it will not be Peyton Manning's fault.
Manning, after playing his entire career with the Indianapolis Colts, was inexplicably let go in advance of what is expected to be their drafting of highly touted Andrew Luck, the Stanford quarterback who has played in one of the most pitiful "bigtime" conferences and who wouldn't know how to win a game played against the worst that the Southeastern Conference has to offer. Good luck with that. With Tony Dungy and Peyton Manning both gone, there is no good reason to root for the Colts. And, with an owner like Jim Irsay, there's every reason in the world to root against the Colts. When the Patriots look good in comparison (owner Bob Kraft is a class act), I think I shall return to pulling for the professional football franchises in my home state of Florida.
Granted, I was excited that Tim Tebow was drafted by the Denver Broncos. As a long-time FSU Seminole fan, I married into a Gator family, but it wasn't until Tim Tebow was the starting quarterback for the University of Florida that I finally began to pull for the Gators even when they played my Seminoles. There is just something about the way that Tim Tebow conducts himself — both on and off the field — that inspires people to follow him. Well, at least some people. Apparently John Elway is not similarly inspired.
In fact, the perception — which may or may not be the reality — is that John Elway has never liked "Timmy." From the clearly pained expressions on Elway's face, even when Tebow was bringing the Broncos back in fourth quarter heroics, to the backhanded compliments, it would be a stretch to say that John Elway was sold on Tebow. As was often the case with John Elway's comments regarding Tebow, "Damning with faint praise," comes to mind.
With a quarterback that led the Broncos to win their division and beat the Pittsburgh Steelers in stunning fashion in overtime in the first round of the playoffs, you would think that Elway would connect with the competitive — if raw and unpolished — spirit of Tim Tebow. One thing that is not in question with Tim Tebow is his will to compete and to get better. The other quality that Tim Tebow possesses is a Christian character that not only "talks the talk, but walks the walk." For that he has been vilified, even as miscreants and "reformed" dog killers are given glory and honor in the NFL. As the saga in Denver drags into its second week, it is becoming more apparent that the reason — whether perceived or real — that John Elway does not connect with Tim Tebow may have more to do with character — or lack thereof — than with competetive spirit.
There's no question that the National Football League is a business. But, just because something is a business does not mean that ethics, common courtesy, and simple decency should be absent. Perhaps all three of those ideals are abundant in spades behind the scenes even as the very public spectacle of the chase for Peyton Manning plays itself out in Denver. But, if that were the case, why the complete silence from Elway and company regarding their "starting" quarterback? I can certainly understand Tim's silence in the matter. It's been reported that Tebow is "philisophical" about the situation, which maybe a nice way to say that he is not happy, but that he knows that "all things work together for the good of those who love God and are the called according to His purpose." In the end, Tim Tebow understands that football is not his life, but is just a game. As much as he wants to play in the NFL, God is in control of his life and God is in control of the situation at Dove Valley, whether Mr. Elway realizes it or not. But, that's a philosophy that John Elway may not comprehend and, therein lies the problem.
When John Elway says things like:
"Well, I think Tim's earned the right to be the starting quarterback going into training camp next year,"

I want to "help Tim in every way I can, to be able to improve through what I learned."

"Hopefully, I can teach him what I learned over my 16-year career, to be able to tell him what I learned in Year 10, hopefully get that to him in year 3 or 4."

"we're so hopeful that Tim's that guy. Obviously, we have some work to do and he knows that, too."
he must have different definitions for "earned the right," "help," "every way I can," "teach him," and "hopeful." If not, then there's only one other possible explanation for why John Elway said what he said in January. That explanation is not one that would be easy to overlook if you are Tim Tebow or any other Christian athlete who puts stock in the phrase, "My word is my bond." Maybe with Elway and the Denver Broncos, we should remember Ronald Reagan's maxim, "Trust, but verify." 
If the words that John Elway spoke in January are not consistent with truth or reality in March, then it will be difficult for Tim Tebow — whether or not Peyton Manning signs with the Broncos — to continue to work for someone who appears to have verifiably broken trust, not once, but on multiple occasions, the last of which could be paraphrased using the immortal words of Jackie Chiles, "This is the most public yet of Tim's many humiliations."
If John Elway and the Denver Broncos' organization are this brazen in public, one can only imagine the humiliations — direct and indirect — that Tim has had to endure in the last two years in private. No other quarterback drafted in the first round has been subjected to the scrutiny of Tim Tebow. And, it seems that no other first round quarterback who has won two National Championships and the Heisman Trophy has been treated as shabbily by the team that drafted him. Even Jamarcus Russell fared better with the Oakland Raiders. A team should realize they are ethically challenged when the Raiders make them look bad by comparison.
Regardless of what happens with the Tim Tebow/Peyton Manning saga, Tim will be okay. In fact, he will be more than okay. After all, when followers of Christ are treated contemptibly by the world, Jesus says that they're blessed. So, whether in Denver or Jacksonville, here's to Tim hearing Jesus say, "Blessed, Makarios, WooHoo!"  And, Jesus always keeps His promises. That's more than I can ever say for John Elway!