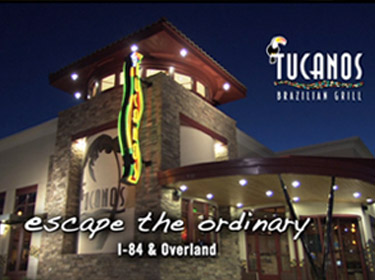 What do evangelism, Bugs Bunny and Tucanos Brazilian Grill have in common? Well, at least this week, Albuquerque, NM! The Baptist Convention of New Mexico's State Evangelism Conference begins on Monday, March 4 at Hoffmantown (Baptist) Church in Albuquerque.
Along with about a dozen folks from Bethel Baptist Alamogordo — including our Music Pastor and Student Pastor — I will be joining hundreds of other Southern Baptists from the Land of Enchantment to be encouraged and fed through the preaching, singing, and fellowshiping at this year's conference. However, what would a gathering of Baptists be without food? Not a very good one. That's why there's even a Pie Fellowship on Monday night.
But, just like Bugs Bunny, I don't want to miss my left turn (or even right turn) on the way to Tucanos Brazilian Grill in Albuquerque. After my first visit to Tucanos in January 2011, I couldn't wait to get back to this wonderful eatery featuring delicious meats and an amazing salad bar (yes, even I ate from the salad bar). I wrote at the time of my first experience at Tucanos:
Now, anyone that knows me well knows that I'm — how shall I say it — a picky eater.  Five Guys Burgers and Fries is generally more my taste when it comes to cuisine.  A Brazilian grill?  This couldn't be good, could it?  I had never heard of a Brazilian grill, much less eaten at one.  I already envisioned myself ordering a pizza from Papa John's later that night.

If you had asked me before last Sunday night whether I believed I would like food from a Brazilian grill, I would have probably laughed out loud.  After eating at Tucanos in Albuquerque, I am definitely a convert.  I can't wait to share my dining experience with others.

Oh wait, I just remembered.  Our annual Evangelism Conference just happens to be in Albuquerque on January 31 and February 1.  Our entire pastoral staff plans on attending.  Somehow I have a feeling that we will end up eating lunch at Tucanos.  I wouldn't want the others to miss out on what I experienced.  After all, there's always room for more converts! (Brazilian Grills and My Sunday Night Conversion!)
Alas, it was not meant to be. While we made it back to Albuquerque for the Evangelism Conference as planned, the weather prevented a return visit to Tucanos Brazilian Grill. In one of those freak winter storms that covered the entire state of New Mexico — even leading to the closure of I-25 and other roads going back south to Alamogordo — we were not only cut off from home, but we were blocked from driving the tantalizingly close distance to Tucanos. I guess we could have tried to find an alternate route, but we decided against it. In the end, our heads prevailed over our stomachs.
It's been two long years since my first and only eating experience at Tucanos. Later on today (Monday), I'll be headed back to Albuquerque. Just like 2011, I plan on eating at Tucanos on Tuesday for lunch. The weather is forecast to be sunny and in the 60's. No snow storms to close the roads. What could possibly stop me from eating at this wonderful Brazilian Grill this time? Well, maybe the stomach bug that has kept my youngest son up all night vomiting. If I don't make it to Tucanos this week, it won't be because of a missed left turn in Albuquerque!