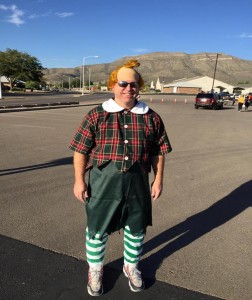 Why would anyone dress up in what has been described as both the best and most disturbing costume for Bethel's 5th Annual Trunk-or-Treat? I have been asking myself that question since first seeing this photo. Disturbing, indeed!
I certainly did not dress up as a "Lollipop Guild" member because I look stylish in the green and white leggings or simply adorable with my skullcap wig (which blended in way too easily with my retreating hairline). The answer to my question is really quite simple.  At the end of the day, Bethel's Halloween Outreach Event — including all the candy and  costumes — is really about doing whatever it takes to reach our community with the message of the Gospel of Jesus Christ.
We have been given the awesome privilege and mandate to carry out the Great Commission and live out the Great Commandment.  What  better way to "redeem the time" (Ephesians 5:16) and accomplish both  purposes simultaneously than to invite our friends and neighbors over to our "house" on Halloween?
Bethel has decided that we will use every day — including Halloween — as an opportunity to push back against the darkness, to be salt and light in a culture that is increasingly post-Christian and anti-God.  It would be easy – in fact understandable – for Christians in our culture to want to withdraw from the world. But, that is simply not an option. We are called to engage the culture, not to accommodate the culture and not to retreat from the culture. And, that means 365 days out of the year.
Every day is the Lord's Day – a day that He has made.  No day belongs to Satan! Therefore, whether it is through Trunk-or-Treat on a Friday night or shopping in Wal-Mart on Saturday or eating out at a restaurant on Sunday or going to school on Monday or working at your job on Tuesday or walking the dog in your neighborhood on Wednesday or shopping at the mall on Thursday, every day and every place can be an opportunity to be salt and light in our culture:
"You are the salt of the earth, but if salt has lost its taste, how shall its saltiness be restored?  It is no longer good for anything except to be thrown out and trampled under people's feet.

You are the light of the world.  A city set on a hill cannot be hidden.  Nor do    people light a lamp and put it under a basket, but on a stand, and it gives light to all in the house.  In the same way, let your light shine before  others, so that they may see your good works and give glory to your Father who is in heaven." (Matthew 5:13-16)
With Thanksgiving only two weeks away and Christmas, the season of lights, fast approaching, unbelievers will be more open to the message of the Light of the World at this time of the year. As Christ-followers, let's be intentional as we are the salt of the earth and the light of the world in our culture! And, let's do whatever it takes to share the life-transforming message of the Gospel of Jesus Christ with our family, friends, neighbors, and co-workers. Time's a-wastin' and the stakes are too high!