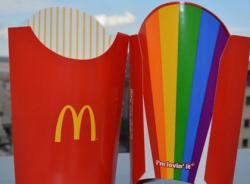 When is a scoop of Ben & Jerry's ice cream not really just a scoop? When are McDonald's french fries not merely the best tasting fries in the fast food world? Apparently when these two iconic foods become weapons in the ongoing Culture Wars relating to LGBTQ rights in general and so-called same-sex marriage in particular.
In the case of Ben & Jerry's ice cream (for the record, I have never been a fan. Too expensive and too "out there" for my tastes), their Australia locations are now refusing to serve customers two scoops of the same ice cream flavor. Why? Because this far-left owned business believes that ice cream can make a political statement. According to the Vermont-based company:
Imagine heading down to your local Scoop Shop to order your favourite two scoops of Cookie Dough in a waffle cone. But you find out you are not allowed – Ben & Jerry's has banned two scoops of the same flavour. You'd be furious! Don't live near a scoop shop – no problem! You can sign up through the Equality Campaign's website here.

But this doesn't even begin to compare to how furious you would be if you were told you were not allowed to marry the person you love. So we are banning two scoops of the same flavor and encouraging our fans to contact their MPs to tell them that the time has come – make marriage equality legal! Love comes in all flavours!
With same-sex marriage still illegal in Australia, Ben & Jerry's wants to use the country's 26 locations to send a powerful message about marriage equality. With 72% of Australians recently polled in favor of same-sex marriage, it would appear that the "same scoop" ban will be short-lived. And, despite Australian tennis great Margaret Court's defense of Biblical, traditional marriage in her home country, the winds of change will not stop the march of the LGBTQ agenda. That Google Maps has just unilaterally changed the name of "Margaret Court Arena" to "Evonne Goolagong Arena" despite no official name change from Australia's tennis federation does not bode well for those who oppose the redefinition of marriage in the name of "marriage equality."
Does Ben & Jerry's in Australia have the right to refuse to serve their customers two scoops of the same ice cream flavor, as a weapon in the battle for marriage equality? Absolutely. While this combined business and political decision will not affect most Americans and only a small fraction of Australians, it does not matter whether I think this is one of the stupidest things I have ever heard. I'm not going to eat Ben & Jerry's ice cream anyway.
However, McDonald's "LGBTQ Friendly french fries" are a rainbow of a different color. Apparently three McDonald's locations in the District of Columbia will be serving their world-famous french fries in specially designed rainbow containers between June 9-11:
In celebration of the city's LGBTQ community, select McDonald's locations in the D.C. area will be serving large orders of french fries in rainbow-print packaging during Pride weekend.

The colorful fry boxes will be available between June 9 and June 11, but only while supplies last, and only at three specific McDonald's restaurants located along this year's Capital Pride Alliance's parade route.
Although only three locally-owned McDonald's in the Washington, D.C. area are serving large french fries in rainbow containers, some heated voices, like "Christian Evangelist" Joshua Feuerstein, are implying that this is a new, nation-wide propaganda campaign by McDonald's aimed at families:
DISGUSTING! McDonald's released their RAINBOW FRIES today in honor of GAY PRIDE! Im tired of corporations trying to influence our families like this. SHARE THIS and let people know to STOP EATING at McDonalds! Plus, their food is crap. Really.
For a supposed Christian evangelist who should speak the truth, there are several problems with this Facebook post. First, this is not a McDonald's corporate decision that has been imposed on all McDonald's franchises — either privately-owned or corporately-owned — although there is obviously no corporate policy which would prevent this special issue fry container at participating locations. Second, McDonald's did not "release their RAINBOW FRIES today" — on June 2, the day of Feuerstein's post — if by "release" he meant "made available," as the special containers will not be available until later this week and at only three locations in Washington, D.C. for three days only. Lastly, if you want to be taken seriously about a boycott, don't dis McDonald's food — especially their french fries — by calling them "crap."  Everyone who has ever tasted salty, hot McDonald's french fries (you can't eat just one) can attest to their deliciousness. Your credibility — if any — goes out the window with such nonsense. Plus, it's hard to boycott a fast food chain that you were never going to eat at in the first place.
But, herein lies the hypocrisy of the boycott movement, from the Southern Baptist Convention's infamous (and completely ineffective) boycott of Walt Disney World in the 1990's to the call to boycott McDonald's over "Rainbow Fries" — if we want to be consistent — much less not seen as hypocritical — we should boycott every business whose corporate policies are at odds with our values, particularly with regard to same-sex marriage and LGBTQ rights.
Where to start? For sports lovers, that means no ESPN, a Disney-owned company. For smart-phone owners, that means finding a wireless carrier other than the "Big Four" of AT&T, Sprint, T-Mobile, or Verizon or a cell phone or tablet not named Apple or a computer not operating with Microsoft Windows. For shoppers, it means finding somewhere other than Amazon, Walmart, Costco, or Target to shop for bargains. And, for candy lovers, it means no Kisses, Chocolate Bars, or Reese's Peanut Butter Cups (NO!), all owned-by Hershey. And, how's this for irony. For those who post on Facebook and Twitter, you might want to find a different medium. All of these companies and more have a perfect "100" LGBTQ rating from the Human Rights Campaign (see here for complete list.)
Do I like that these companies, including McDonald's, have corporate policies that conflict with my own personal, religious values? No, I do not. Am I going to start boycotting all of these companies? No. I really wouldn't know where to start. Would I go out of my way to order a large french fry from McDonald's in an LGBTQ-friendly Rainbow container. No. I'm not planning on eating at one of the three Washington locations this weekend. And, if  I were, I'd just order a medium fry. Now, if McDonald's starts weaponizing the McRib (if I could ever find it again), then that really is a horse of a different color!