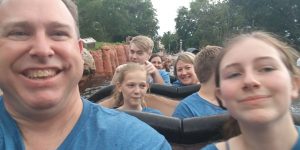 They say that there is a first time for everything. It took only 45 years of visiting the Magic Kingdom at Walt Disney World for me to experience a new first. Well, actually two firsts, but both part of the same not-so-magical experience — a breakdown of a ride that I was on, Splash Mountain, and the breakdown of customer service by Disney World's Cast Members during and after the breakdown. Maybe it was the matching shirts we were all wearing.
Splash Mountain, one of the more popular rides at Disney (more accurately, the Magic Kingdom, but the first park will always be just Disney for me and many of my generation of Florida kids who grew up near the theme park), was finally opened after inclement weather shut down several rides for more than an hour on Friday. With this and The Haunted Mansion as the only two major attractions left to go on that day, eight of us (minus Mom and Jacob who had wisely gone back to the hotel for the afternoon) quickly made our way over to Frontierland and the Fast Pass Lane for a magical encounter with Brer Rabbit, Brer Fox and the other colorful characters (minus Uncle Remus) from Disney's "Song of the South."
As we set out in our boats at 3:04 p.m. (the time stamp from the first picture I took as our adventure began), little did we know that a 10-minute ride would turn into a 50 minute one. The ride came to a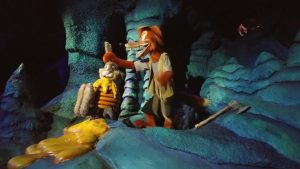 sudden and unexpected stop sometime before 3:11 p.m. (a minute or two had elapsed before I decided to take a picture of Brer Fox and Brer Rabbit and other pictures that would chronicle our adventure), with our boat stuck just short of the conveyor belt that would have lifted us up to the last, biggest, best, and wettest of all the drops on Splash Mountain. But, alas, there would be no "Zip-a-Dee-Doo-Dah" for us.
Rides at theme parks, including major ones like Disney World, often experience sudden breakdowns in service. In all my previous times where this has occurred, the ride usually re-starts after a few minutes. Indeed, the Cast Member in the control booth communicated to us through the speakers that "the ride will/may resume momentarily. Please stay seated." After half-a-dozen of these announcements over a 15-minute period, it became increasingly clear that his definition of "momentarily" and our definition of that word were radically different.
When the lights came on — never a good sign if you want to finish a ride — somewhere around 3:31 p.m.,
a full 20 minutes after we stopped, we were informed by the same Cast Member in the control booth that we would be evacuated from the ride and that we should remain seated. For some, that was easier said than done. With no rescue in sight for what seemed like a really long time when one is sitting in an uncomfortable seat with a safety bar firmly across one's legs (thankfully I'm not claustrophobic), at least three riders extricated themselves from the ride and made their own way out.
For those in the last few cars, including the eight in our family on the ride, aid would not come until around 3:48 p.m., when large "keys" would be used to manually release the safety bars so that we could disembark and head for the emergency exit. With little to no assistance from Cast Members (and nary a word, but more on that in a moment) to help us step out of the boat and across the water onto raised and irregularly shaped scenery that was anything but sure-footed, we finally were at least on dry land, even if not out of the attraction itself.
With minimal guidance from our "rescuers," we were at last escorted to an emergency exit which led us down a flight of stairs that emptied into a back lot with production buildings and vehicles. That was at 3:53 p.m., nearly 50 minutes since our Splash Mountain adventure began.
Apart from the few passengers who took matters into their own hands by disembarking before "help" arrived, the other passengers were, for the most part, well-behaved and patient. No one wants to get stuck on a ride with no idea of how long it will take to get off. That a few "guests" tried to sit up on the edge of the seat after over thirty minutes of not moving, only to be commanded from the control booth to stay seated, should have been a tip-off as to how the rest of the "guests" would be treated as our journey came to an end.
While I certainly do not believe that "the customer is always right," customers should be treated with respect and courtesy, particularly when the customer has been inconvenienced through no fault of their own. However, the concept of "customer service," whether on an airplane or in a theme park, seems to be sorely lacking.
Although certainly not comparable to being forcibly removed from an airplane or made to sit on the tarmac for hours, a customer (or, as Disney likes to call them, "guests") who end up stranded on Splash Mountain for 50 minutes and who have to ultimately be evacuated from the ride should at least be entitled to a simple "I'm sorry for the inconvenience" or "I'm sorry that you did not get to finish the ride." Or, at the very least, "I hope you enjoy the rest of your day at the Magic Kingdom." 
We got none of that. In fact, what we got was mostly silence and a lot of pointing to the exit, except for an over-zealous Cast Member that demanded that my wife stop taking pictures in the forbidden zone. If she could have confiscated Brenda's cell phone, she surely would have tried (unsuccessfully, to be sure), as she sternly shouted, "You can't take pictures here" and "You have to delete those pictures. Now!" I haven't encountered that kind of gusto for confiscating pictures (or, in this case, deleting pictures) since 1980 when I was traveling behind the Iron Curtain in Romania and Hungary.
But, at least someone spoke to us. Of the six to eight Cast Members who lined the way back to the front of the ride, not one of them spoke to us apart from the Cast Member concerned about pictures. Perhaps Disney World trains its Cast Members to say nothing and do next to nothing when it comes to helping their "guests" get off a broken down ride. Maybe the corporate attorneys think that saying anything, even if it's "I'm sorry for the inconvenience," is somehow an admission of guilt. Or, perhaps this was so unexpected and, the Cast Members were so ill-prepared or untrained, that they simply forgot how to treat their "guests."
However, when you become more concerned with your "guests" taking pictures rather than for the actual comfort and safety of your "guests," you might have a major breakdown in customer relations. When you literally do not say a word — other than "delete your pictures NOW!!! — but silently point the way out, you might have a problem with customer relations. And, when you treat your customers as an inconvenience instead of treating them as the "guests" you say they are, you might need to relearn good customer service.
In the end, nobody got hurt and our "magical" day continued. You know, everybody has an off day. It happens. Rides break down. People become impatient. Employees forget how to treat their customers. If you've never experienced it before, give it time. It may not take you 45 years to experience it at Walt Disney World's Magic Kingdom like we did, but when you do, boy what a story you will have to tell your grand-kids. "I remember when grandma and me were on Splash Mountain with your father and we had to be evacuated. I think it was in 2017." Just be prepared to hear, "Oh, no. Not that story AGAIN!"